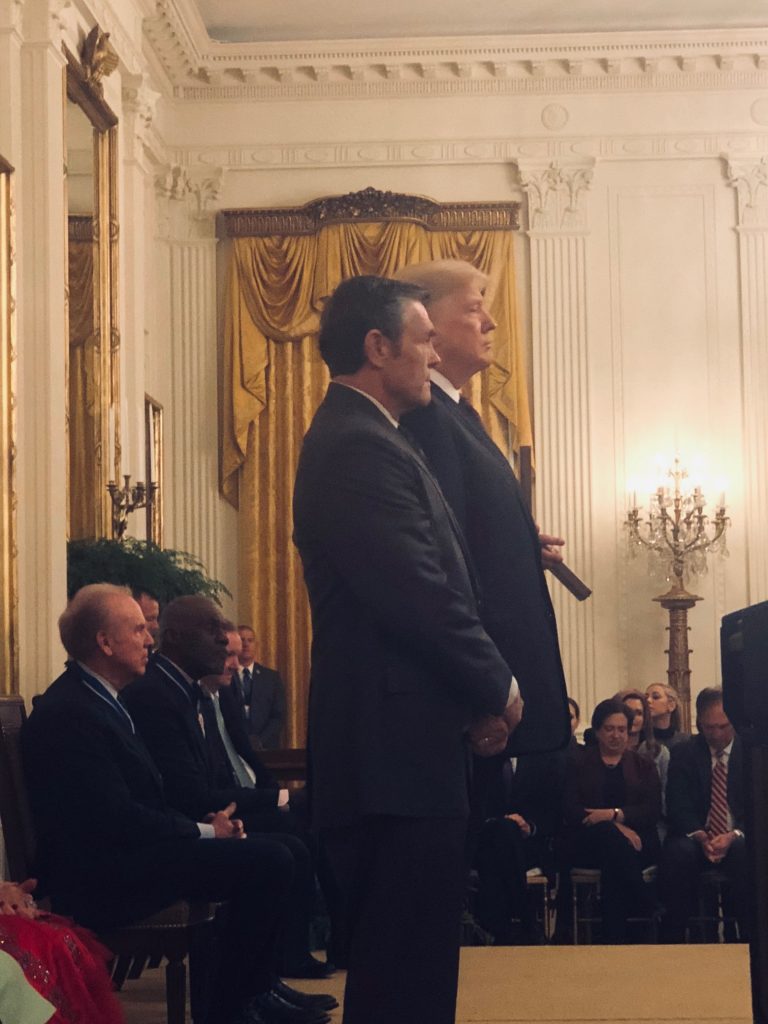 On November 16th 2018, Babe Ruth was post-humously awarded the Presidential Medal of Freedom by President Trump. The Medal of Freedom is America's highest civilian honor, and was created in 1963 by President John F. Kennedy. Babe's grandson, Tom Stevens, was on hand with members of his family to receive the medal on behalf of his grandfather. On February 7th, 2019, the Babe Ruth Museum hosted their annual Babe Ruth Birthday party (this would be Babe's 124th) and Tom Stevens was there to the present the award to the Babe Ruth Museum for ongoing display at the Babe Ruth Birthplace in Baltimore, MD.

Museum director Shawn Herne had this to say about receiving the award on behalf the Museum: "The Babe Ruth Birthplace is honored to place the prestigious artifact on display. Our mission is to preserve the legacy of Babe Ruth, and the Medal of Freedom fully demonstrates the continued significance of Ruth, America's greatest sports star, on the American culture."
At the time when the award was announced by the White House, the family of Babe Ruth had this to say about the honor:
"George Herman "Babe" Ruth is an American icon who is still revered today for his amazing baseball abilities. When he retired, he held over 50 American and Major League records for pitching and hitting, several of which still stand today. Babe was a real life example of the American dream. Unable to find the time or desire to parent, George's mother and father put him in an industrial school for boys when he was 7. He grew up to become an American Legend and the first world-renowned sports celebrity.
One aspect of his life of which we are most proud, however, are his efforts off the field. Throughout his life, Babe visited thousands of children in hospitals and orphanages. He regularly stood outside ballparks for hours after baseball games signing autographs. He paid hospital bills for people he barely knew. He supported over 100 charities and foundations over the course of his life. Of German descent himself, he publicly spoke out against the German persecution of Jews in the years leading up to the American entry into WW II and participated in numerous charitable events that raised funds for the war effort. Everyone was equal in Babe's eyes – rich or poor, white or black. Living in a time when segregation was a normal course of life, he called many African Americans friends, including Joe Louis and Bill "Mr Bojangles" Robinson. He regularly played barnstorming games against Negro League teams and encouraged the concept of integrated baseball far ahead of its time. It was this open-mindedness, his advocacy for player's rights, and his general outspokenness, that likely prevented him from fulfilling his second lifelong dream – to manage a Major League team.
It is for all these reasons that the Ruth Family considers Babe an American hero and are justifiably proud that he's being recognized for his contributions to American society and culture with the Presidential Medal of Freedom."